In the Vahanti family, an aged oil heating system was replaced with an air-to-water heat pump and radiators for circulating underfloor heating. The balance is almost 1,500 euros in annual savings in energy bills, a much smaller carbon footprint and a maintenance-free everyday life.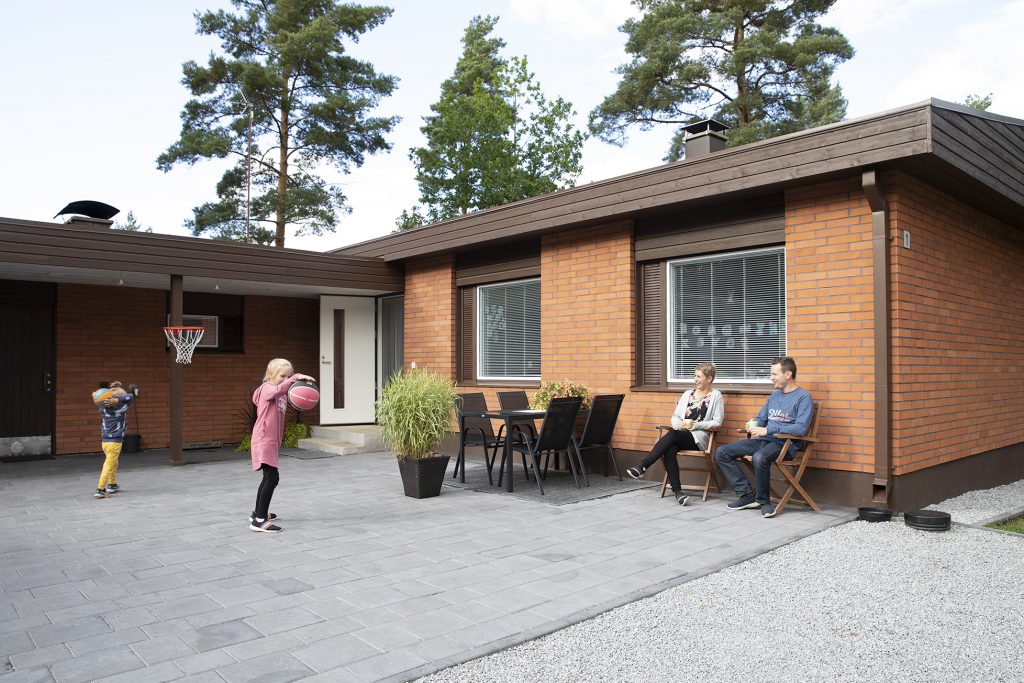 In January 2017, Janne Vahanti and Maria Nurmi, who live in Kalanti, Southwest Finland, were in a situation familiar to many single-family homes. The 120-square-foot house, built by Mary's parents since the mid-1970s, was becoming the family's number one home, but there was also quite a bit to renovate ahead: in practice, the house was in its original patterns, except for the wallpaper.
The waxes still decided to grab an inch and get the house rebuilt, right down to the kitchen, washrooms and house technology. At the same time, a more modern, cheaper and more environmentally friendly alternative to old oil heating was started to be considered.
– Puntari had mainly geothermal heat and an air-to-water heat pump. More expensive geothermal heat quickly disappeared from the figure, as it would have known quite a bit in the yard area as well. That is not what we wanted, Janne Vahanti recalls.
The contract offer went to Ukin Putki Oy, which operates in Uusikaupunki, and which had previously been responsible for renewing the house's domestic water pipes. At the same time, energy saving calculations were made, according to which the heat pump investment would pay for itself in 5-7 years.
– On this basis, the decision was already easy to make, Vahanti recalls.
An easy and effortless option
An old Jäspi oil boiler was replaced by a Jäspi Tehowatti Air Split air-to-water heat pump. The installation work went smoothly in three days, as the indoor unit conveniently went to the site of the old oil boiler. Old radiators were replaced with underfloor heating at the beginning of the renovation.
– They were already starting to make their way, so it made the most sense to give them up altogether. Underfloor heating is also a better option for living comfort, emphasizes Vahanti, who also works in the electricity sector.
Freedom of maintenance and disruptions were also considered as a whole. The heating water is not recirculated through the heat pump, which reduces the risk of freezing in winter disturbances. In addition, Jäspin's myUpway remote monitoring is connected to the air-to-water heat pump, which sends a message to Vahanti's e-mail in the event of faults and disturbances.
– Ease and ease have been a big thing. Now you no longer have to worry about ordering oil or operating the boiler in winter weather, he smiles.
Cooling remained on the wish list
The new technology has now been in use for a couple of years and the original energy savings calculations have kept their itch well. In the first year, the total electricity consumption was 6,300 kWh, of which it has stabilized at around 8,000 kWh.
That's a pretty reasonable reading for a family of four, as hot water consumption is usually plentiful. However, the 215-liter charger for the indoor unit has been good enough.
– The increase in readings is partly explained by the fact that there has been more than usual at home due to the corona. Nevertheless, the investment pays for itself in the planned time. Compared to oil, the savings are large, as its consumption was about 2,000 liters per year, Vahanti says.
However, one thing is annoying. The air-to-water heat pump did not include cooling technology that would have been in use during the hottest weeks of the summer.
– One should probably be retrofitted at some point, Vahanti states.
Energy support also helps
At Ukin Putki Oy, Antti Isotupa, who is responsible for heating system sales, considers the Vahanti family's investment to be quite a typical job for them. An air-to-water heat pump can extend the life cycle of even an older property at a reasonable cost.
– There are many detached houses built in the 1970s and in need of renovation in Finland. Replacing the heating system is often the first and most sensible way to get started, Isotupa lists.
The total amount of the repair should not be frightening at first hearing. In practice, the investment is offset by savings from the energy bill. According to a plumbing professional, it can also be used to map the condition of pipelines, radiators and domestic hot water systems.
– The typical payback period for an air-to-water heat pump is 5-7 years, Isotupa explains.
No wonder, then, that it is an increasingly popular option. According to Isotuva, the popularity can only be predicted to increase when new state aid is available this autumn. As a result, a person giving up oil heating can receive up to EUR 4,000 in subsidies for their energy investment.