In Ihala, Raisio is a beautiful oil-heated detached house completed in 1991, where the five-person Laaksonen family lives. However, the oil boiler was already coming to an end, so it was time for new solutions.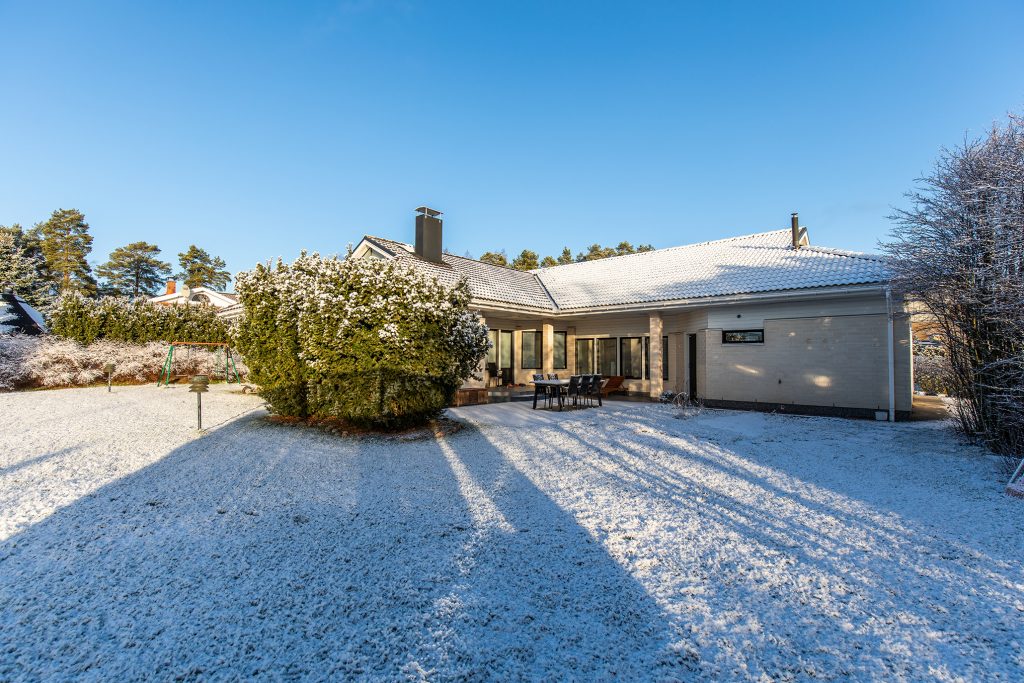 – At first, we were already ending up with an air-to-water heat pump alone or a combination of it and an oil boiler. However, we have a large family and 225 square meters to heat, so I started to hesitate about the sufficiency of an air-to-water heat pump alone, and I no longer wanted oil heating, which I thought was old-fashioned, Johannes Laaksonen says.
Easy care assured
In the future, the price of oil is more likely to rise than fall. The valleys researched several options online and chatted with acquaintances in the same situation.
– When my wife and I calculated the pros and cons of our needs and different options, we ended up with geothermal energy. The wishes were a fair reduction in heating costs, ease and maintenance-free: no more ordering oil, no smell or sooting the barrel. The decision was also influenced by the recommendations of two good friends. The products selected were Jämä Star Inverter 6 kW ground source heat pump and Jäspi VLM Star 300 domestic hot water tank. Geothermal was pleasant because of its ease of care. It also influenced the decision that everything was hidden and nothing was left in the yard.
The equipment was placed in the technical space of a detached house, which previously housed an oil boiler and an 2000-liter inner tank. The ground source heat pump and accumulator took up less space than just the oil tank, so plenty of extra storage space was freed up.
"A full ten performance"
The Laaksonen family did not even consider other than Kaukora's domestic products. The decision was influenced by Kaukora's good spare parts and service network and long experience in heating Finnish homes.
– I received a recommendation from a friend to request a turnkey installation offer from Lämpö Nurmi Oy and I was also in contact with Kaukora about the suitability and prices of the equipment. I got really knowledgeable and fast service from both companies. The drilling of the well went smoothly and VS-poraus Oy left the yard in a tidy condition. Even the yardstones had been stacked back. Ten performance, Johannes praises.
Johannes himself dismantled the old oil tank and the Lämpö Nurmi installers took off the boiler. Old goods the host sold  online. Lämpö Nurmi came the day after the well was drilled to install the ground source heat pump and accumulator. Already that evening, the hot water was switched on. The installation was completed the next day. Everything went smoothly: neatly, on schedule and without surprises.
– According to our calculations, at current prices and consumption, savings of about 2,000 euros per year are generated. With the whole hardware on a turnkey basis, the price was just under 17,000 euros. With my wife, we get full household deductions, so the payback period for the equipment after these deductions and savings is about 7 years, Johannes calculates.
Cooling option under consideration
The installation also includes a thorough introduction. Mikko Nurmi from Lämpö Nurmi promised, to advise Laaksonens on the adjustment and use of the device. Adding cooling is also being considered.
– I recommend asking acquaintances for experiences and opinions on different solutions. At least we were greatly influenced by the experiences, advice, and tips of good friends. In addition, I recommend choosing products from well-known manufacturers with a comprehensive spare parts and service network. I chose Kaukora products myself because they have decades of experience in heating Finnish homes. If the summers are as hot as in 2018, then the cooling unit will definitely be done, Johannes sums up.